As we age, some aspects of our appearance deteriorate and, therefore, we look for solutions to prevent this continuous wear. Although the prevalent belief is that some of these conditions, such as hair loss, are not harmful for our health, they are usually considered as illnesses and thus constantly researched to find out their causes and come up with treatments to prevent them.
This is the case of androgenetic alopecia a very common condition in both men and women, which is a source of a lot of concern, as a healthy hair is a very important aspect of our appearance. This text evaluates the causes for the onset of androgenetic alopecia and the most appropriate treatments to heal this uncomfortable situation with a lot of patience and the appropriate products and protocols.
What is androgenetic alopecia?
Androgenetic alopecia (AGA), or pattern hair loss, is premature and abnormal hair loss and is one of the most common chronic conditions diagnosed by dermatologists all over the world. Is is characterised by progressive hair loss with a gradual decrease in the diameter, length and pigmentation, particularly on the scalp. It has different patterns in women and men, but the centre of the scalp is the most affected area in both cases. Androgenetic alopecia may appear at any time after puberty and incidence increases with age.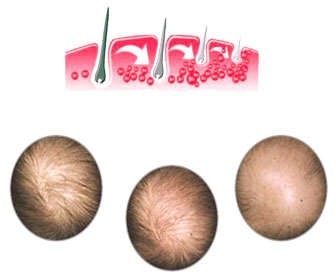 This type of alopecia is responsible for most hair loss cases, approximately 95%, and affects the self-esteem and quality of life of the person affected. Despite the high prevalence of AGA, the approved therapeutic options are limited. Along with the small number of pharmacological treatments, there are many over-the-counter medications that are considered very effective in restoring hair with androgenetic alopecia.
Causes of androgenetic alopecia
As its name states, AGA is a genetic condition. Dihydrotestosterone (DHT), a product derived from the male hormone testosterone, is the main enemy of the hair follicles on our head. For many years, scientists assumed that androgenetic alopecia was caused by a prevalence of the male sexual hormone, testosterone, which is also minimally present in women under normal conditions. While testosterone is at the core of the hair loss process, it has been proven that DHT is the main culprit.
Testosterone transforms into DHT with the help of a Type II enzyme: 5-a-reductase, located in the sebaceous glands of the hair follicles. In some investigations, it has been observed that the problem is not the amount of testosterone in the subject, but the level of binding between DHT and the receptors in the follicles of the scalp. DHT shrinks the hair follicles, which makes it impossible for healthy hair to survive.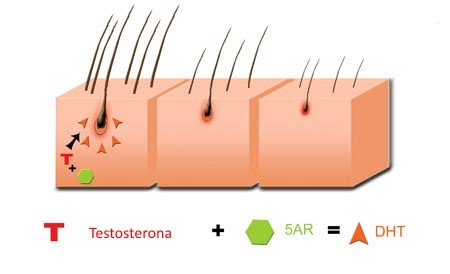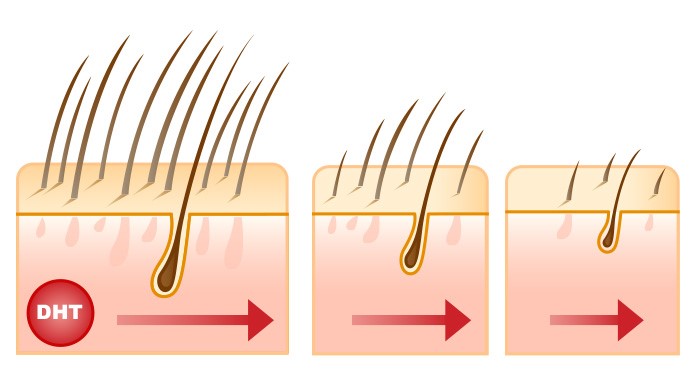 The hormonal process of testosterone, which becomes DHT, then damages the hair follicles in both men and women. Under normal conditions, women have a tiny fraction of testosterone compared to men, but even this low amount may cause DHT-dependant hair loss in women.
Given that hormones work better when they are balanced, androgens or male hormones do not need to increase to cause a problem. However, when female hormones decrease, these androgens, such as DHT, increase, and this unbalance may also cause issues such as hair loss.
Hormones follow a cyclical process. Testosterone levels in some men decrease by 10% each decade after thirty. The hormone levels of women decrease as they approach menopause and experience a sudden decrease during and after menopause. The cyclical nature of our hair and our hormones is one of the reasons why hair loss can increase in the short term, even when there is a long-term deceleration of the hair loss process taking place (and a gradual increase in hair growth) while applying a treatment to control hair loss.
Treatment for androgenetic alopecia
As mentioned before, androgenetic alopecia can be solved. However, this requires a lot of patience along with the best products, as the hair cycle continues normally and restoring the health of hair follicles is not an easy process.
To understand the impact of certain products on the stimulation of hair growth, we must first understand the processes that trigger the disappearance of hair follicles on the scalp, which are directly related to the formation of DHT. Therefore, we must choose products that can inhibit the formation of DHT while regenerating already affected follicles to restore the health of the hair.
You can use home remedies or effective action with specific products against hair loss that stimulate hair growth.
Moreover, you can use external action products (applied on the skin) or products that act from the inside, that is, nutritional supplements to nourish and keep the scalp healthy.
In any case, non-aggressive products are the most recommended treatment when seeking a solution for pattern baldness. Below, we present some REDENHAIR products that help stimulate new hairs and keep hair healthy, avoiding hair loss and remedying male or female pattern baldness.
This is a super-concentrated hair loss treatment that increases the density of the hair while reducing loss and stimulating new hair growth. It contains active ingredients that help stimulate hair growth:
- 3% Redensyl™
- 3% Procapil™
- 2% Capixyl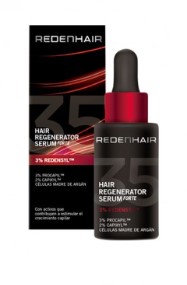 This is a hair regenerator designed to maintain the volume of your hair, reduce hair loss and stimulate the constant growth achieved after treatment with HAIR REGENERATOR SERUM FORTE. The combination of ingredients of natural origin stimulates the biological processes involved in the development of the hair follicles and prolongs its growth while reducing the hair loss stage (telogen stage).
Thanks to the combination of active substances dissolved in a rosemary water lotion, carefully selected for their beneficial properties for healthy hair, this product is able to protect the hair fibre, smooth the cuticle and reverse loss caused by androgenetic alopecia.
At the same time, the natural fragrance and the rosemary hydrosol, which constitutes a significant percentage in the formula and provides very beneficial properties that develop the hair follicles, give the product a pleasant scent and also make it suitable for every day use.
In addition to all the active substances it contains, HAIR REGENERATOR SERUM MAINTENANCE has copper tripeptide, the innovative, well-known peptide that boosts the hair's structural resistance and increases the proliferation of follicular cells.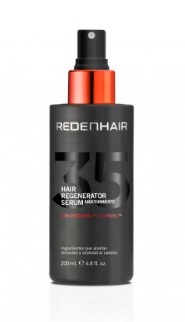 These capsules contain a revolutionary formula that is specially designed to keep the hair follicle healthy, preventing oxidation and providing all the nutrients necessary to stimulate hair growth. These food supplements contain all the vitamins that our body needs to slow hair loss in both men and women.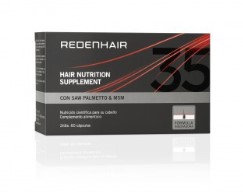 Some chemical hair loss products can obstruct the follicle, harden the hair shaft and weaken growth. This shampoo is formulated with a pure Redensyl™ base enriched with active ingredients that act specifically to care for hair in the processes of loss, without causing it any harm, with no sulphates or parabens. It is without doubt the best anti-hair loss shampoo on the market and can be used to treat baldness in both men and women.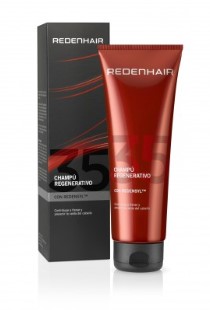 This regenerative accelerator contains a formula that hydrates, strengthens, stimulates, conditions and increases the shine of your hair, preventing breakage and leaving your hair healthy and protected against future damage.
It is formulated with Redensyl™, which acts on the hair follicle and fibroblasts to reactivate hair growth and help stop hair loss. It is a product enriched with keratin that strengthens and nourishes the internal structure of the hair fibre, leaving it softer and more hydrated, aiding the production of the hair's natural keratin.
The formula is enriched with ginseng extract, collagen, silk proteins, plant-based ceramides, wheat proteins, panthenol, and biotin.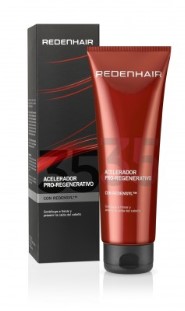 All of these products will allow you to safely resolve the effects caused by androgenetic alopecia, so that you will, once again, have full, healthy hair. For best results in the short to medium term, we recommend combining the use of all of these products. That's why REDENHAIR offers the possibility of purchasing the REGENERATOR TREATMENT KIT, containing all of the listed products. This combination, backed by an effectiveness clinical trial, will return your hair to its best and combat androgenetic alopecia in both men and women.
And remember… every month we have prize draws and exclusive deals on our social media! Follow us on Instagram or Facebook and take advantage of our deals.