Saltpeter and hair
Swimming in the sea provides a number of benefits for our physical and mental well-being. However, for the hair, this activity can be a double-edged sword, as it depends largely on our hair type and the current state of its strands. The impact of sea salt on our hair and scalp is not white or black: although there are some benefits of capillary exposure to seawater, some precautions should also be taken not to spoil the locks of hair.
How to create wavy hair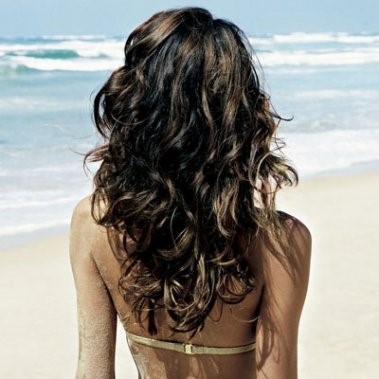 Sea water, in addition to the water itself, contains chlorides, sulfates, sodium, magnesium, calcium and many other elements. While our hair is primarily made up of keratin proteins, our strands are cross-linked between these proteins. These three-dimensional bonds are a formation of covalent bonds between adjacent amino acids. In turn, the salts (sodium chloride and magnesium sulfate, both present in seawater) create additional cross-links inside the hair, curling the strands and thus waving them.
The salt water of the sea causes some disadvantages for the hair, but it also provides some properties that we can take advantage of. The effects it has on the hair fiber are detailed below.
Effects of seawater on hair
Hair dehydration
Salt is hygroscopic, meaning it attracts more water to the hair by forming more salt crystals, but this process removes moisture from inside the strands, causing dryness and breaking the strands, a process that also reduces cross-links and makes hair becomes weaker and more brittle.
Seawater does not feel too good on normal and dry hair, since it has a pH of approximately 7.8, causing a reduction in shine, consistency and elasticity. In this case, it is necessary to take precautions to avoid that the constant visits to the beach take their toll on the hair. The best solution is to apply a leave-in conditioner before heading to the beach, like Redenhair's Pro-Regenerative Booster. In this way, you will cover the strands without letting the salt penetrate to dry them and spoil them.
Extreme dryness for chemically treated hair
If you are using dyes, bleaches or if the structure of your hair has been chemically altered, seawater can make this condition worse. The chemical treatment already removes nutrients from the hair and artificially changes the cross-links within the hair strands. The hygroscopic properties of salt water remove moisture even from healthy hair, but make it even worse in locks that have been chemically altered.
More body and fullness of hair
On the plus side, the saltwater crystals add volume and body to your hair. This can be a good thing for hair with low density and capillary volume, but you have to be careful because this additional salt also dries it out and lifts the hair cuticle, which makes it susceptible to further moisture loss.
Nutrients absorbed by the scalp
Sea water contains many positive nutrients for the scalp and skin. For example, magnesium strengthens the neurosystem and has a calming effect on the body. It is also well absorbed through the skin, which makes a swim in the sea not only pleasant but also healthy for the nervous system. Stress reduction is directly related to stronger and healthier hair growth, so the calming effect of magnesium is a huge plus.
Exfoliation and stimulation of blood Flow
Salt water crystals can serve as an excellent scalp scrub to remove accumulated product at the roots of the hair, as well as to stimulate blood flow if you are massaging your scalp with the salt scrub. Therefore, massaging the scalp after the hair dries is a good idea, as there are numerous benefits to stimulating blood flow to the scalp.
Antifungal properties
Salt can help with dandruff caused by the malassezia fungus, as salt water has antifungal properties. These properties are due to the fact that fungi have to expend more energy to achieve osmosis (or osmoregulation) with salt water than with fresh water, instead of spending that energy on their own growth.
Natural shampoo and grease remover
If you have an oily scalp, seawater can help remove heavy oils and excess sebum by acting like a dry shampoo. Absorb the excess oil present in your hair that is present near the roots.
In conclusion…
The answer about the effect of sea water on your hair is twofold. To prevent your hair strands from drying out and becoming brittle and brittle as a result of exposure to seawater, consider using a leave-in conditioner before heading to the beach. A solution could be to wash your hair in the morning with Redenhair's Regenerative Shampoo and then apply the Pro-Regenerative Accelerator without rinsing. Thus, when you go to bathe you will already be covering the strands of your hair and will prevent the salt from absorbing moisture, minimizing the damage that salt water can produce and maximizing nutrition for the texture of your hair.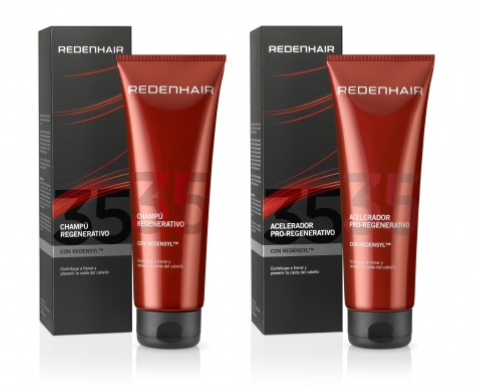 Añadir hipervínculo sobre "Champú Regenerativo" que direccione a la página de compra del producto.
Añadir hipervínculo sobre "Acelerador Pro-regenerativo" que direccione a la página de compra del producto.
Añadir hipervínculo sobre "Redenhair" que direccione este link:
https://www.redenhair.com/es/12-productos
And remember ... Every month we carry out raffles and exclusive offers on our Social Networks! So follow us on Instagram or Facebook and enjoy our promotions.
Añadir enlace sobre "Instagram" y "Facebook" que redireccionen a los links de las RRSS.