To prevent and treat dreaded alopecia, our research team has selected a total of 35 ingredients with the highest quality and efficiency, including the recommended dose (3%) of Procapil ™ active ingredient in its SERUM FORTE HAIR REGENERATOR. Combined it form the powerful capillary regenerative REDENHAIR treatment that effectively combat the aging process of the hair follicle, preventing his fall and stimulating hair growth.
Androgenic alopecia affects 50-70 % of men and 40-50 % of women of Caucasian type. Men from 20 years already beginning to feel the hair loss effects and this figure is increasing by 10% every decade.
Procapil ™ is an herbal complex containing natural active components that helps firmly anchor hair follicles in the scalp and make the cells hair bulb denser, allowing them to keep the young and care hair with healthy aspect.
It is based on three complementary active principles in a global solution: a vitamin matrikina (biotinyl-GHK), apigenin (a flavonoid extracted from citrus fruits) and oleanolic acid (extracted from the root of Loveyly Hemsleya).
3 goals to stop hair loss = PROCAPIL™
Reduce dihydrotestosterone production by inhibiting 5a-reductase type I and II.
Improve the blood supply of the hair follicle.
Improve the quality of the epithelial sheath and stimulate the production of molecules of anchorage.
PROCAPIL ™ attacks the alopecia main causes caused by dihydrotestosterone (DHT), male hormone that damages the most sensitive areas of the scalp, such as: crown, forehead or temples, weakening the hair itself and reducing the growth cycle. Therefore this active substance solve the poor microcirculation of the scalp, the cell aging and atrophy of hair follicles.
Clinical studies show the positive result of PROCAPIL™ in which we evaluated the proportion of anagen hair phase (A) and telogen (T) in order to calculate the ratio A/T, analyzing hair samples.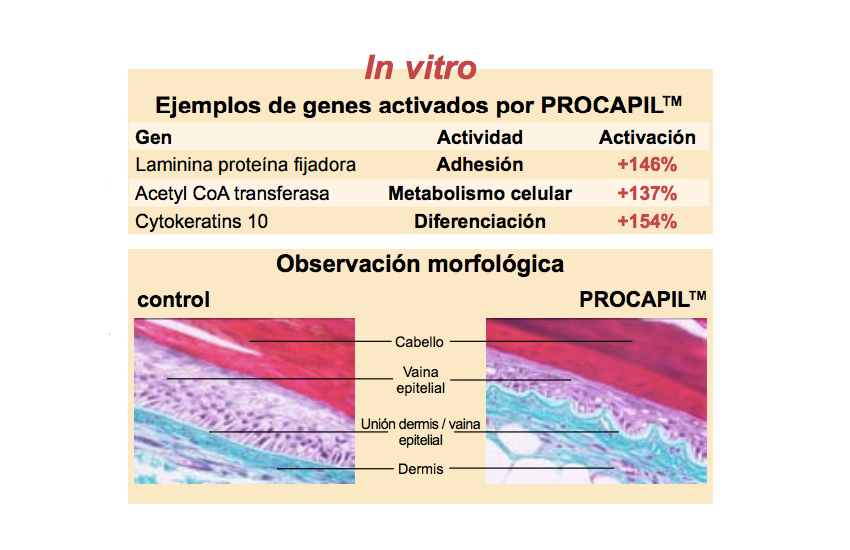 With Procapil ™, the number of anagen hairs increased in 67% of the volunteers. It provides a prolonged hair growth phase and improved the harmful effects of dihydrotestosterone (DHT) resistance.

PROCAPIL ™ activates numerous genes involved in tissue repair mechanisms (DNA array on a 3D epidermis Skin-Ethic®).After treatment, cells of hair follicles are perfectly structured and differentiated. The epitetal sheath is thicker and provides better anchorage.
PROCAPIL ™ slows the aging effects hair by preventing hair loss, thanks to its cell metabolism stimulation. It provides a protective and restorative effect of the different structures of the hair follicle.
In addition, it increases blood flow to the scalp, allowing the arrival of more nutrients who enrich the hair, improving capillary circulation and fighting the aging process of the hair follicle in order to prevent his fall.