Androgenetic alopecia can have a profoundly negative impact on many aspects of life: people who experience hair loss normally struggle to feel confident, positive and sure of themselves in both professional and social scenarios. According to statistics compiled by a variety of national and international health institutions, women are particularly prone to hair loss, and to the negative social and professional secondary effects that may arise as a consequence of it.
During all this time, several classification systems have existed for the purpose of generally classifying the status of this health condition. These systems are based on the morphological and dynamic parameters that affect the scalp and the hair itself. Currently, the Hamilton-Norwood scale for men and the Ludwig system for women are the classification systems most frequently used to describe hair loss patterns. These classification systems are very useful for determining the stage you are at, if you are suffering from, or think you are suffering from androgenetic alopecia, and in particular so that you may receive the most appropriate treatment and thus prevent your condition from getting any worse.
What is the Ludwig scale?
The Ludwig scale is a method for measuring female pattern hair loss and is the generally accepted standard when it comes to describing hair loss in women. It was developed in 1977 by Dr. Erich Ludwig, who classified female pattern hair loss into only three stages, according to hair density, to give us an idea of the degree to which a woman's hair has been lost.
Dr. Ludwig was driven to create this particular model due to the continual increase in the number of women being diagnosed with hair loss, which had been quite rare until then. In this model, graphic patterns are used to represent the progressive hair loss according to its severity, and it is very useful for:
Determining the amount of hair that has been lost up to that moment.
Estimating how much hair may be lost in the future, if the condition progresses.
Working out how to treat the condition appropriately according to its current stage of development.
The Ludwig scale, which can be used to classify any level of hair loss in women, is shown below. Unfortunately, the further you are along the Ludwig scale, the fewer the options available for you to recover your hair. That is why it is important to detect the hair loss stage in order to act as soon as possible.
Stage 1 – Ludwig Scale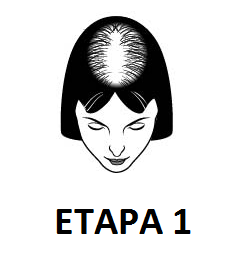 Gradual thinning of the hair is experienced on the upper part of the head. Hair loss in this stage can be so mild that it may go unnoticed for a long time. Unlike male pattern hair loss, the frontal hairline in women generally does not recede much. However, hair loss can occur on the upper and frontal part of the scalp.
As the hair becomes thinner, the scalp is more visible, especially if the hair is parted in the middle. Esta etapa también incluye una imagen de un cuero cabelludo saludable sin pérdida de cabello para fines de comparación.
If you have been able to identify that you are at this stage of hair loss, it is vitally important that you start taking action so that the hair loss process does not accelerate. HAIR REGENERATOR SERUM MANTENANCE by REDENHAIR is a 100% natural and 0% aggressive solution that incorporates the best active ingredients on the market for maintaining the volume of the hair and stimulating its healthy growth. Also, try to monitor the ingredients of the products you currently use, as these could be speeding up the hair loss process instead of slowing it down. Always use non-aggressive products and, if possible, products with active ingredients that specifically act against female pattern hair loss (androgenetic alopecia).
Stage 2 – Ludwig Scale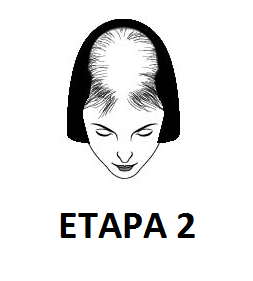 Hair loss in this stage is deemed to be moderate. Now the hair loss is noticeable. In this stage, women may notice each of the following aspects: hair thinning and shedding, general reduction of hair density and volume, and a central area that continues to expand over time. Since the scalp becomes clearly visible, the loss in this stage is noticeable to other people.
The best option for people who are classified as being at this stage, is to start a hair loss treatment as soon as possible that helps maintain the current hair volume while stimulating hair regrowth and strengthening weak hair follicles. The REDENHAIR REGENERATIVE TREATMENT KIT comprises the best 100% natural hair products, making it the most suitable option for people who find themselves at this stage. It is important to replace all haircare products with products specifically formulated to stop hair loss and stimulate hair growth.
In some cases, depending on severity, a hair transplant may also be a viable option.
Stage 3 – Ludwig Scale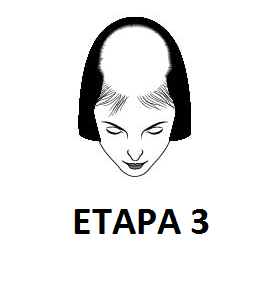 This is the final and most extreme classification of hair loss in women. In this stage, the hair is so fine and thin that it is very difficult to cover up the scalp, making it clearly visible. Generally, no hair can be found on or around the crown, or on the middle part of the scalp. This may worsen due to a series of factors, which include the shrinking, gradual thinning and extensive loss of the hair.
Although the remaining hair may be long on both sides, the hair loss is severe and clearly visible. Having reached this point, a hair transplant may be the most effective solution, accompanied by a good haircare regime using non-aggressive products that stimulate the development of the hair follicles.