Telogen effluvium is deemed to be the second most common cause of hair loss diagnosed by dermatologists. It occurs when there is a significant change in the number of hair follicles in growth phase: if this number decreases significantly during the resting phase of hair growth, more latent hair follicles appear, which results in a significant, but generally not permanent, hair loss.
This type of hair loss is temporary and occurs after all kinds of stressful situations, traumatic events or shock. It is important to differentiate between telogen effluvium and the permanent hair loss disorder, known as alopecia areata. Although large amounts of hair might be lost, telogen effluvium is usually temporary and, if treated properly, the hair will grow normally again afterwards.
At a certain point, around 90% of the hairs on someone's head are growing actively (anagen phase) while the others are resting (telogen phase). Usually, hair remains in the anagen phase for two to four years, then enters the telogen phase, rests for about two to four months and is finally shed and replaced by new, growing hair. A person naturally loses around 100 hairs a day on average.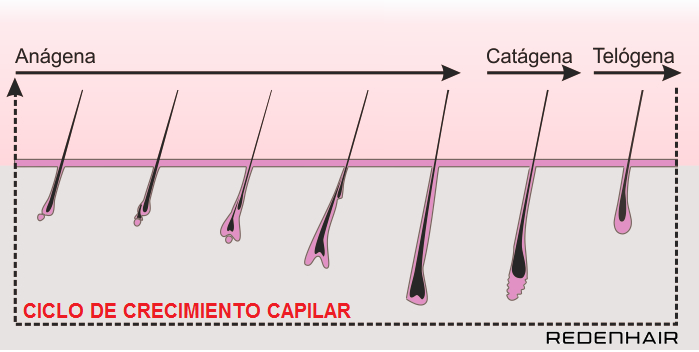 In a person with telogen effluvium, the changes that may have caused this condition push more hairs into the telogen phase. Therefore, approximately 30% of the hairs stop growing and enter the resting phase before being shed. This way, a person with telogen effluvium can lose an average of 300 hairs a day instead of 100.
In this article, we analyse the symptoms and causes of, as well as the solutions and remedies for, telogen effluvium.
What are the symptoms of telogen effluvium?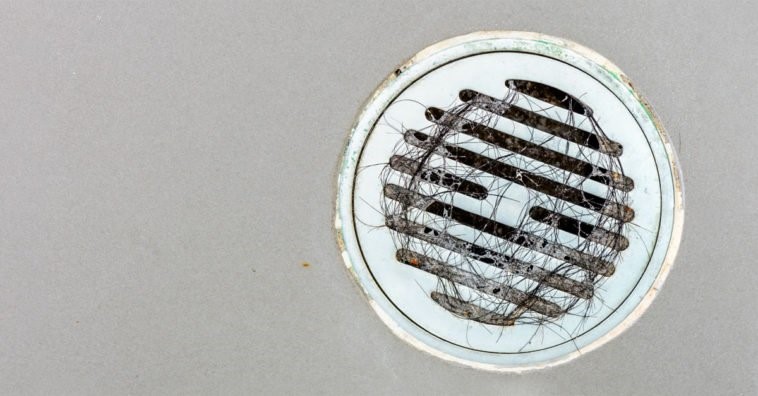 Telogen effluvium at first appears as a thinning of the hair follicles on the scalp. This thinning can be limited to a single area or appear across the entire head, possibly affecting some areas more than others. Usually, the upper part of the scalp is the most affected area. In some more severe cases, telogen effluvium may cause hair loss in other areas, such as the eyebrows and even the pubic region, but, given that this condition is reversible, complete hair loss is very unlikely to occur.
To diagnose telogen effluvium, check whether there is more hair than usual on your pillow case, shower and comb. Also, the hair on your head may look less dense than usual. However, hair loss is often subtle and some people may not even notice any changes.
What causes telogen effluvium?
The diffuse hair loss caused by telogen effluvium can be triggered in different ways:
Environment
Physical trauma, such as being involved in a car accident, losing a significant amount of blood, undergoing surgery, or drastic weight loss, can all trigger telogen effluvium. Exposure to toxins such as heavy metals can also cause this condition, as the impact of an environmental change can cause the hair follicles to enter into the resting phase and not grow as they usually would.
Although the cause of this type of telogen effluvium can be sudden, it is possible that the hair thinning will not be noticeable until several months later. If the environment is stable, the hair can easily return to normal in less than six months.
Diet
Hair loss can be caused by a deficiency of vitamins or nutrients, of which the following can affect hair growth to a more significant extent:
- Iron
- Zinc
- Copper
- Calcium
- Vitamin B6
- Vitamin B5
If your daily nutritional habits do not guarantee a constant source of these vitamins and nutrients, you must try to balance your diet with food supplements, as their absence can cause telogen effluvium and even accelerate alopecia processes.
The formulation of REDENHAIR HAIR NUTRITION SUPPLEMENT capsules contains all of these ingredients and many more, and is specifically designed to keep the hair follicle healthy, preventing its oxidation and providing all of the essential nutrients to stimulate healthy hair growth.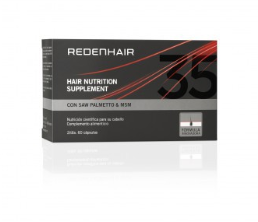 Hormonal changes
A sudden change in hormone levels can trigger hair loss due to telogen effluvium. Similar to an environmental change, hormone fluctuation can cause the hair follicles to enter into an extended resting phase. An example of this is hair loss during pregnancy, in which hair growth usually recovers between six to twelve months after giving birth.
Medical treatments
Some antidepressants and other medicinal products, such as blood pressure medication and oral contraceptives, can cause temporary hair loss. Before starting any treatment, it is important that you discuss all possible side effects of the medication with your doctor. Moreover, some vaccines or surgical procedures may cause a nervous shock and push the hair follicles into the resting phase. However, hair growth usually goes back to normal after a few months.
Solutions and remedies for telogen effluvium
Hair loss can be a symptom of a different disorder, such as alopecia areata, an autoimmune disorder that causes almost total hair loss. Because of this, it is important to find out whether it is actually telogen effluvium that is causing the hair loss. If so, the treatments for telogen effluvium range from lifestyle changes to treatments containing natural products for topical application, such as REDENHAIR, that contribute to prolonging the anagen (active growth) phase of the hair follicles.
Additionally, some of the causes of this disorder can be corrected. For instance, if your diet is deficient, try the REDENHAIR HAIR NUTRITION SUPPLEMENT capsules or try to maintain a diet rich in the nutrients mentioned above. Similarly, if the hair loss was triggered after starting a new medical treatment, ask your doctor about the medication's possible side effects.
Although losing a lot of hair in a short time can be terrifying, this disorder is usually temporary. Each hair that is prematurely pushed into the telogen phase is replaced by a new hair in growth, so there is no risk of complete baldness if the appropriate actions are taken. Most cases last for six to nine months and the hair usually starts to grow again. If you want to gain volume quickly to conceal this temporary condition, the ideal product is a hair thickener. REDENHAIR's HAIR THICKENER is a 100% natural and instant solution that gives density and volume to your hair and conceals telogen effluvium. These keratin hair fibres instantly add thickness and density to each hair and are completely undetectable.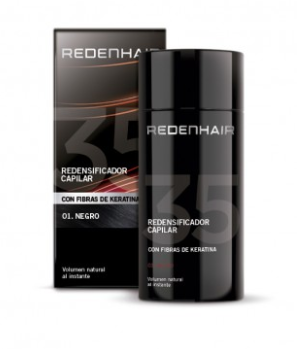 And remember… every month we have prize draws and exclusive offers on our social networks! Follow us on Instagram or Facebook and enjoy our offers.