TRY THE NEW REDENHAIR ANTI-DANDRUFF SHAMPOO AND FORGET ABOUT DANDRUFF FOREVER!
Redenhair's innovative ANTI-DANDRUFF SHAMPOO is now on sale. And it has been a long time of research so that, finally, we can test the most powerful combination of active ingredients to combat dandruff and effectively remove impurities from the scalp.
This relaxing and luxurious shampoo offers a specific formula that eliminates the scales present on the entire scalp, either due to excess dryness or excess oil. It contains antioxidant and bactericidal agents that deeply clean the hair and prevent the presence of dead skin on the scalp and therefore the reappearance of dandruff particles that trigger pityriasis.
In addition, it calms itching since its formula is soft and free of sulfates, so it produces a calming effect on the scalp.
What is the dandruff formation process?
Our skin is renewed every month, and during this process, the dying skin cells are replaced by new ones. It is usually impossible to see these cells with the naked eye. However, if the growing cells form too quickly, the cells in the top layer do not separate from each other and stick together. When hundreds of them are grouped together, they become visible on the scalp as scales.
There are many causes that lead to this bothersome symptomatology. Often it is a combination of different factors such as stress, incorrect care of the scalp, dry air from hot and cold air conditioners, or environmental changes that irritate the skin and can alter its environment. Genetic predisposition may also be a reason for excessive cellular regeneration of the skin. The result: unattractive white dandruff flakes on clothing and shoulders.
Most of us are familiar with this type of temporary dandruff. It is irritating, but harmless, and becomes more of a cosmetic than a medicinal problem. However, both men and women want to get rid of it as soon as possible.
Mechanism of action and active ingredients of ANTI-DANDRUFF SHAMPOO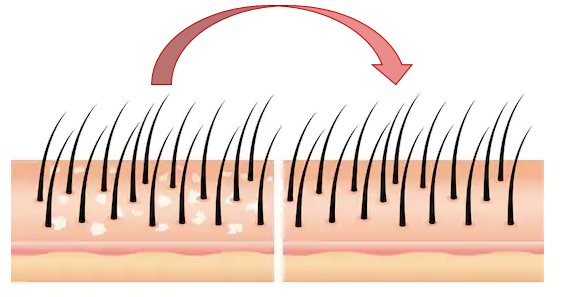 The double efficacy of REDENHAIR anti-dandruff shampoo works against the dry dandruff present and also to prevent its reappearance, thanks to its complete composition based on various active ingredients that act synergistically against flaking of the scalp.
On the one hand, pyroctone olamine, the most effective anti-dandruff ingredient that protects the scalp from the effects of the fungus caused by dandruff. On the other hand, climbazol, another key ingredient to combat dandruff and flaking of the scalp thanks to its antifungal action, and finally, Dandrilys, an extract developed from the Brazilian plant Ziziphys joazeiro that is considered a powerful Dandruff reducing agent with soothing and anti-inflammatory activity.
In addition, it is formulated with Sandalore, the revolutionary fragrance that has proven to be effective in reversing hair loss thanks to its chemical components.
How to use
Apply to wet hair, gently massaging hair and scalp to foam, simultaneously achieving the stimulating effect of blood circulation. Rinse with plenty of water. Repeat the application, this time performing an energetic massage. Leave to act for a few minutes. Rinse with plenty of cold water.
Avoid contact with eyes and mucous membranes. Do not eat.
Keep the product out of the reach of children.
Unique formulation on the market
The innovative formulation of REDENHAIR ANTI-DANDRUFF SHAMPOO is unique on the market, as it contains an excellent synergy of active ingredients, combining pyroctone olamine and climbazole, the two most effective ingredients to combat dandruff, with Dandrylis, the innovative extract that perfects the product to eliminate visible flakes of dandruff and avoid their reappearance completely.
This shampoo will not only solve your dandruff problem in the short term, it will take care of your hair and scalp like no other, as all ingredients have been meticulously selected to offer maximum effectiveness with minimum aggressiveness. Try it and you will see the difference between before and after. In just a few days you will see results!
Add hyperlink on "shampoo" that leads to the product purchase page.
And remember ... Every month we hold raffles and exclusive offers on our Social Networks! So follow us on Instagram or Facebook and enjoy our promotions.