Like most people, you probably think that the appearance of gray hair is a natural part of aging, or that it is simply a genetic factor. While these factors play a role, it is possible to slow down this process and even reverse it with some natural tricks.
Read below to learn more about the hair graying process and to discover how to get rid of gray hair naturally.
What causes gray hair?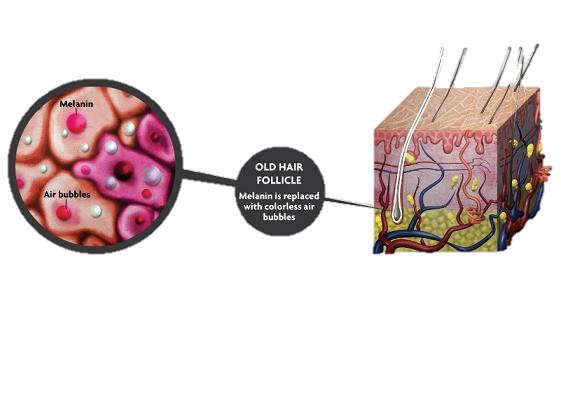 Pigmentary cells called melanocytes, present in hair follicles, are responsible for giving hair color and are known as melanin. When we stop producing them, the hair color begins to transform, until it loses all its color and looks completely gray.
Generally, hair begins to turn gray from the age of 30, where the probability increases from 10% to 20% in each decade. As we already know, age and genes play a significant role in hair graying. But what exactly makes the body stop producing melanin? The answer to this question is still under investigation, but several recent studies provide some interesting answers.
For many years it has been assumed that stress can cause the formation of early gray hair, but now, through new research, it has been possible to definitively demonstrate its relationship with the process of hair graying. In a study published in the scientific journal Nature it was found that stem cells that control the color of the skin and hair are damaged after passing a severe stress.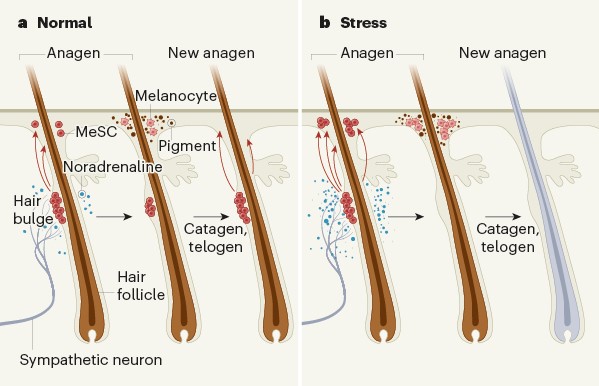 The appearance of gray hair is a totally natural process that happens to all of us at some point in our lives, but depending on the lifestyle it can also accelerate more than expected, especially if you are under periods of intense stress.
Although the main cause of the appearance of gray hair is genetics and age, it does not mean that there are no preventive measures that can be taken to delay its appearance and even reverse the process once it has begun. And we're not just talking about dyeing your hair, but, first of all, avoiding gray hair. It may seem difficult but the scientific evidence supports this claim.
What kind of graying can we observe?
Physiological and premature gray hair should be distinguished from other causes of hypomelanotic hair disorders and neurocutaneous syndromes that may occur in children. We can find the different types of gray hair:
- Psychological graying: it appears because of aging and usually begins with the temples and the back of the head, gradually until all the hair turns gray.
- Premature graying: appears before the age of 25 remarkably. The gray hairs begin to appear in the temporal region and later on the top of the head to end in the neck area.
- Poliosis: appears in very localized areas forming a white spot and is caused by very low levels of melanin. It can appear not only on the head but on the eyebrows, moustache and beard.
- Annular graying: appears evenly throughout the hair or may also form white hair spots. It is not too common and is caused by pathologies that cause the decrease of melanin.
What are the remedies to avoid gray hair formation?
1. Don't let your body run out of nutrients and vitamins
There are a number of dietary deficiencies that, according to science, can contribute to gray hair. Vitamin B12 and folic acid are just a few. A study published in The International Journal of Trichology showed that young volunteers with premature gray hair had low levels of vitamin B12 and folic acid. They were then able to determine a correlation between the deficiency of these nutrients and gray hair.
To avoid these deficiencies without having to have constant medical check-ups, the best solution is to try Redenhair´sANTI-GREY HAIR capsules. Thanks to its content of catalase, zinc, folic acid and many B vitamins (B5, B6, B8 and B12), it preserves the original hair colour and combats oxygen peroxide, the precursor to the disappear ance of melanin and the formation of gray hair.
2. Avoid the stress
As we have commented, another possible cause of premature gray hair formation is stress. And it's the kind of stress that happens to all of us often and that if it becomes chronic it can cause inflammation, weaken melanin-producing cells in the scalp and shorten hair growth cycles. The direct consequence is the process of gray hair formation and premature hair loss.
3. Stop smoking
This is a tip not only for hair health but also for health in general. There is extensive evidence showing how the action of smoking is closely related to premature hair aging in people of all age groups. Smoking can have the same accelerated aging effect on the hair as on the skin.
4. Limit your exposure to toxins and contaminants
This advice may sound obvious as we all do our best to get fresh air and avoid all kinds of pollution. However, it is worth noting, especially considering a study carried out in New Delhi that found a direct link between exposure to free radicals and gray hair formation.
It is a good reminder to take into account the oxidative stress to which we are subjected on a daily basis, from pollution to sunlight, tobacco and alcohol consumption. Try to keep your environment and lifestyle healthy and breathe fresh air every day.
After assimilating all this information it is easy to ask how to prevent the generation of gray hair in the mane. There are a number of remedies available, although the vast majority have not proved to be too effective or durable. Today we want to present the effective solution with Redenhair's ANTI-HAIR TREATMENT KIT.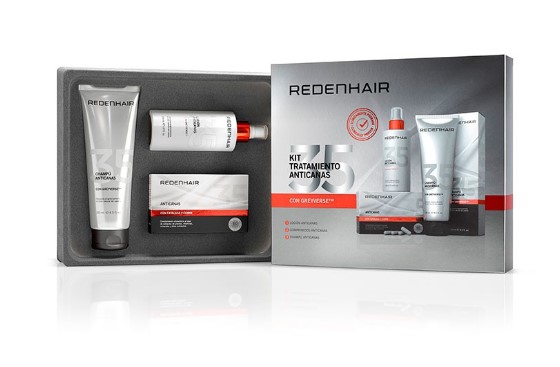 What is involved? Well, it consists of a complete anti-grey hair treatment with dye-free repigmentation technology. This kit, with all its products, delays and reverses the color of the gray hair. Basically, it achieves hair repigmentation from the root to make the hair grow again with color and without the need to dye it. This prevents the use of products that are temporarily effective and often harmful to the scalp.
Although there are many other remedies to disguise gray hair, very few are focused on the mechanism of stimulation of melanin production and inhibition of hydrogen peroxide.
Generally, the changes in our lifestyle, our diet, our day-to-day life and the substitution of some products that we already use for others with specific actions, is much more effective to really prevent the appearance of blissful and hated gray hairs.
And remember…Every month we make sweepstakes and exclusive offers on our Social Media! So follow us on Instagram or Facebook and enjoy our promotions.
Añadir hipervínculos sobre "Instagram" y "Facebook" que direccionen a los links de las RRSS.