DIRECTIONS FOR USE

Clean the area thoroughly with an oil-free product that does not block pores or hinder the hydration of the skin. Do not scrub vigorously, just place the cotton disc on the eye with gentle movements, in the direction of the eyelash.
Step 1: Apply every night on the eyelash line.
Step 2: You only need one stroke to cover all the eyelashes.
NOTE: Wait until the Redenhair Regeneration Serum dries before applying any other product on your face or around your eyes.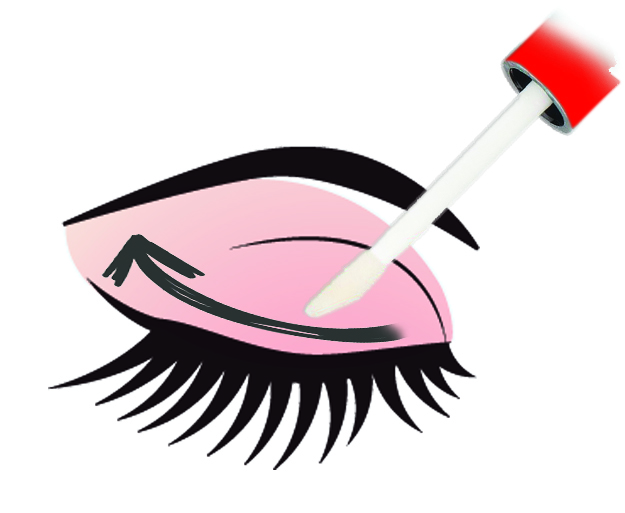 For best results, use morning and night.
For an optimal result, you should use the Eyelash Regeneration Serum for at least 30 days. The first visible results usually appear after 15 days of treatment. Results may vary from person to person, as they depend on the ability of the body to absorb the ingredients. The product can be used non-stop for as long as you want to, the results keep improving significantly after 60 and 90 days of use.
HOW DOES IT WORK?
The eyelash growth stage lasts approximately 30 days. It is a short time for the eyelashes to become thick and long. The advanced formula of Redenhair boosts the natural growth of eyelashes and strengthens them from the root. The results are longer, denser, healthier and better-looking eyelashes. The Redenhair formula also prevents eyelash loss.
Redenhair eyelash regeneration serum acts in two ways:
The active ingredients penetrate the follicles of the eyelashes, boosting eyelash growth and making them longer and thicker.
Our serum protects eyelashes from environmental contamination and provides proper hydration and nutrition. It will make your eyelashes more radiant and flexible. The results depend on the individual reaction to the ingredients. This eyelash serum works during the growth cycle of the eyelashes; eyelashes only last for 100-150 days before they naturally fall out. Healthy and strong eyelashes are very important, as they protect your eyes by catching all types of dust and contamination before they can enter the eye.
A mix of different extracts rich in isoflavones and other substances responsible for plant growth are the base of this product. This innovative formula has been complemented with a biometric peptide.
The mechanism of this combination of active ingredients is based on the inhibition of 5-alpha reductase, an enzyme that produces DHT, which in turn decreases the hair growth stage and is therefore responsible for hair loss and thinner hair.
It increases the production of proteins, vital for the hair to anchor to the follicle.
It decreases pro-inflammatory cytokines, involved in the hair loss process.
IGF-1 to increase the proliferation of hair follicle and boost the growth stage.
FGF-9 factor is directly linked to the stimulation of the cellular population. It is a therapeutic agent to treat hair and scalp problems.
Stimulation of proteoglycans
COMPOSITION
Biotin
Biotin boosts eyelash growth, it makes them thicker, prevents them from falling out or drying out, increases blood flow to the follicles, improves the appearance of the eyes and eyelashes and helps the body absorb nutrients, such as fats, aminoacids and carbohydrates, necessary to stimulate and maintain healthy eyelashes.
Biotin, also known as vitamin H, is one of the water-soluble vitamins and is involved in several metabolic processes. Biotin is required to transform non-sugars (aminoacids) into energy that can be used by the body as glucose; this is the main function of biotin for the metabolism of aminoacids. Biotin deficiency quickly leads to hair loss and increased shedding and skin dryness, along with muscle ache, fatigue and weariness.
Biotin is particularly important in the metabolism of L-cysteine, vital for hair structure.
Zinc
Zinc is a mineral that plays a vital role in eyelash growth. This element is indispensable for protein synthesis and also takes part in the production of creatine and collagen, all essential factors for healthy hair growth. The incorporation of cysteine into keratin also depends on it, as well as the natural conservation of hair pigmentation. Zinc deficiency makes the eyelashes dull, dry and fragile.
BIOCHANIN A extracted from red clover
Biochanin A is a potent isoflavone, derived from red clover. It is a natural organic compound, from the phytochemical class known as flavonoids. Red clover has been used traditionally to treat asthma, cancer and inflammatory skin conditions such as eczema and psoriasis. Biochanin A modulates the conversion of testosterone to DHT in androgenic alopecia.
It boosts the natural growth of the hair. It exerts an anti-inflammatory effect, inhibits the activity of 5-α reductase and the stimulation of protein synthesis of the perifollicular extracellular matrix.
It suppresses follicular inflammation, blocking the action of pro-inflammatory cytokines such as IL-6, IL-8 and IL-1α43.
Both the hair follicles (root) and the cells of the dermis and epidermis require special care and nutrition to reach cellular balance. Biochanin A is specifically designed to solve problems of weakening of the scalp and hair and eyelash loss.
It has been scientifically proven that Biochanin A from the Red Clover flower is an essential flavonoid that neutralises the conversion of testosterone (DHT) that causes hair loss due to a shortening of the nascent hair stage within the hair growth cycle; these factors are considered to back up the efficacy of the product.
The use of Biochanin A is indicated to decrease hair loss, strengthen eyelashes and hair by keeping the nutrients at the roots and the hair follicle in charge of anchoring and supporting the hair, in order to stimulate the root and the constant growth of hair. It also decreases the cellular inflammation that hinders a healthy hair growth.
LYSINE
LYSINE is an aminoacid that boosts tissue growth and repair as well as the production of antibodies, hormones and enzymes that contribute to hair regeneration.
Studies regarding the administration of lysine to women suffering from hair loss show a noticeable increase in hair growth. This hair growth entails an increased proportion of growing hair (anagen stage) along with a decreased proportion of resting hair (telogen stage); the hair grows faster and the amount of hair lost decreases.
ACETYL TETRAPEPTIDE-3
This peptide contributes to stimulate collagen, a natural substance produced by our bodies to repair and strengthen skin damage. It repairs and reinforce hair follicles while revitalising the scalp, to better contribute to natural hair growth.
Biomimetic peptide (Acetyl Tetrapeptide-3). It has been shown to improve hair fibre anchoring in clinical trials. It stimulates extracellular matrix proteins. It also has a direct effect on the hair follicle, increasing its size and increasing the number and vitality of hair fibres.
WHY IS IT BETTER?
What makes our REDENHAIR eyelash regeneration serum better than other eyelash growth products:
100% vegan.
No side effects.
Clinical studies have shown visible results after just 15 days.
The (proven) effects are as strong as hormone-based products (derived from prostaglandin).
It does not contain prostaglandin. Formulas that contain prostaglandin are not recommended for women under 16 years of age, pregnant women or during chemotherapy. Prostaglandin may even be the cause of fragile eyelashes, irritation, pain and change in eye colour when used for a long period of time.
REDENHAIR eyelash regeneration serum is natural and can be used by women of all ages.
It conditions the eyelashes to protect them from weakness and breakage.
It improves the flexibility, moisture and brightness of eyelashes.
It protects eyelashes from everyday hazards.
It improves the appearance of eyelashes. After use, eyelashes appear longer, stronger and healthier.
QUESTIONS AND ANSWERS
When will I start seeing results? Results are usually visible within 3 or 4 weeks, although these results may vary depending on the person using the Eyelash Regeneration Serum. Being patient and consistent with use is very important.
Can I use the eyelash regeneration serum twice a day to obtain faster results? Given that our eyelash regeneration serum does not contain hormones, there is no harm in using it twice a day.
For how long does an Eyelash Regeneration Serum last? It depends on the frequency and amount used by each person, but 4 mL will last approximately 4 months.
Can men use the Eyelash Regeneration Serum? Yes, of course. Although women use this type of products more often, Eyelash Regeneration Serum is a unisex product; moreover, as the liquid is transparent, it is invisible after use.
¿ What happens if I forget to use Eyelash Regeneration Serum one evening? Nothing. Just use it again the following evening. But for better results, it is very important to use Eyelash Regeneration Serum as consistently as possible.
What happens if I stop using Eyelash Regeneration Serum? After a few weeks or months, your eyelashes will return to their original state. Using Redenhair Eyelash Regeneration Serum is suggested in order to maintain the results and keep strengthening and conditioning your eyelashes.
What should I do if I get Eyelash Regeneration Serum in my eye? Rinse the eye thoroughly with water and if you experience irritation contact your doctor.
¿Does Eyelash Regeneration Serum contain a Prostaglandin Analogue? NO, our Eyelash Regeneration Serum does not contain any Prostaglandin derivatives.
I'm pregnant, can I use Eyelash Regeneration Serum? Eyelash Regeneration Serum has NOT been tested in pregnant or nursing women. Ask your doctor before starting your treatment.