Ingredients
AQUA (WATER), CI 77499 (IRON OXIDES), STEARIC ACID, CERA ALBA (BEESWAX), PROPANEDIOL, VP/EICOSENE COPOLYMER, GLYCERYL STEARATE, PEG-100 STEARATE, GLYCERIN, PHENOXYETHANOL, PVP, NYLON-66, AMINOMETHYL PROPANOL, ETHYLHEXYLGLYCERIN, PEG-8, GLYCINE, LARIX EUROPAEA WOOD EXTRACT, SODIUM METABISULFITE, CAMELLIA SINENSIS LEAF EXTRACT, ZINC CHLORIDE, TOCOPHEROL, ASCORBYL PALMITATE, CITRIC ACID, ASCORBIC ACID.
Redensyl®
Redensyl® is an innovative ingredient made up of various active substances that stimulate the development of the hair follicle. Created in Swiss laboratories, it received a prize in the great ingredients gala "In-Cosmetics Awards 2014" for its scientific innovation accompanied by the use of green and natural chemistry, which centres on stem cells and stimulates hair growth while reducing hair loss. To achieve this, it improves the relationship between the anagen and telogen stages of the hair cycle. This ingredient significantly reactivates the development of the hair follicles that form our eyelashes and prevents them falling out, achieving long, healthy, thick, dense eyelashes with great volume. The clinical trials demonstrate that results can be seen in just 15 days.
The characteristics and mechanisms of action of this innovative ingredient are as follows:
- It relaunches the activity and proliferation of stem cells. The outer root sheath stem cells (ORSc) are vitalised, thus triggering a new hair cycle.
- It increases the metabolism of the fibroblasts of the dermal papilla. The hair follicles are nourished and the stem cells are activated more quickly.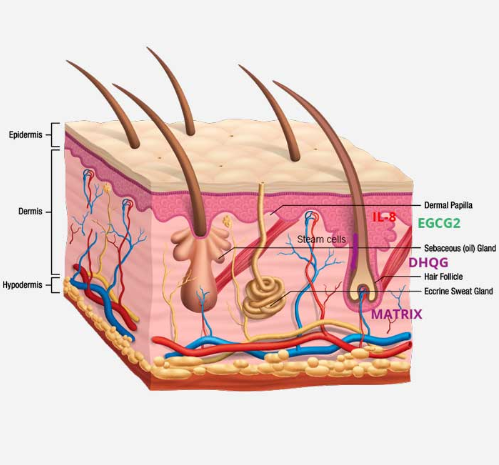 It is a revolutionary product that acts on stem cells and HFDPc to reactivate hair growth, thanks to the substances it is made of:
- Dihydroquercetin-glycoside (DHQG), a stabilised polyphenol that activates the division of the stem cells of the hair follicle, at the same time maintaining their differentiation properties. It protects the stem cells from apoptosis and directs them toward the anagen cycle. At the same time it increases the metabolism of the fibroblasts of the dermal papilla.
- EGCG-glycoside (EGCG2): this is used to reduce the inflammatory state of the hair follicle (IL-8 reduction) and capture free radicals.
- Glycine: this is one of the main components of the hair proteins, principally the proteins associated with keratin (KAP), that favours hair growth.
- Zinc: a very important cofactor for numerous enzymes, which stimulates the incorporation of cystine into the keratin for stronger hair.